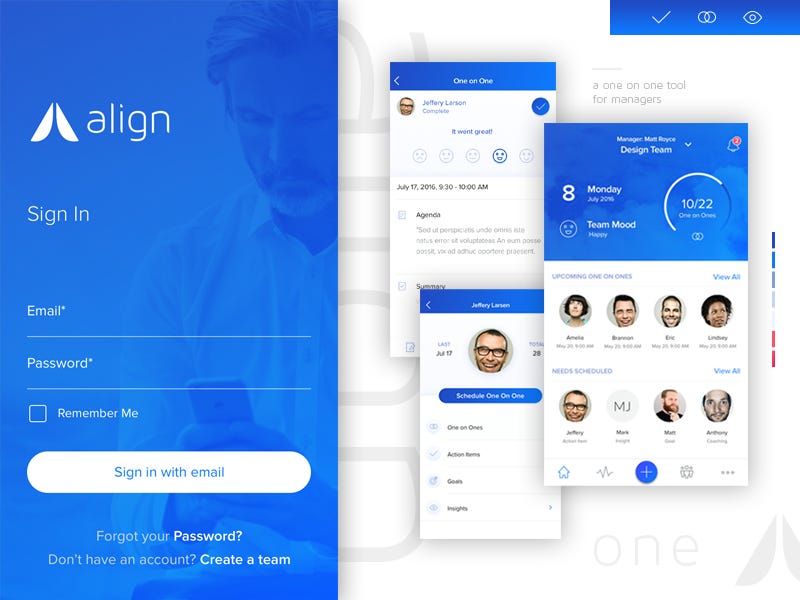 Employee Management App:Beta Test Align for Free
The first thing you should do is determine if your employees are engaged and second, their level of engagement at work. You may ask yourself, what do you mean by engagement? Engagement is defined by the level of commitment and dedication an employee has to their company.
Why is employee engagement important to their job duties? Research has shown that engaged employees increase profits by $2,400 per employee, per year. Leadership styles will not only increase employee engagement but reduce employee turnover.

There are three types of employees on the engagement spectrum:
The fully-engaged employee: 20% of employees are fully engaged at work. If you are reading this instead of Facebook, you are probably more engaged than your average American worker.

The semi-engaged employee: 50% of employees are just here for the paycheck. They come in. Do their work. Clock out.

The disengaged employee: 20% of employees are actively not engaged. This employee is not even doing the bare minimum of work.

So, what are the tell-tale signs of not-so engaged employees?
High turnover rates indicate that employees are not engaged. There are many reasons for a lack of engagement, such as the nature of the job. Some industries including government, light manufacturing and hospitality have less engaged employees. However, most employees resent their managers. Managers can earn employee trust by incorporating an employee engagement strategy plan. Managers should incentivize employees by having weekly one-on-ones. During the employee review, managers should not only set goals for their employees but allow employees to participate in their career development.
A different perspective to consider in terms of employee engagement are motivation and competency. Ever heard of the Skill & Will Matrix? Essentially, the matrix is a punnet square that divides low/high motivation and low/high competency. To determine what level of motivation and skill your employee possesses, your questions should be segmented by motivation and skills pertaining to the employee's job.

Beta test the Align mobile & desktop app for one-on-ones and employee engagement
Competency vs motivation | Measuring employee engagement
High motivation/low skill: If your employee is highly motivated, but lacks certain skills to get the job done, extra training will be needed. Ask them which areas of work they struggle the most with. If extra training isn't working, it could be a communication issue. People have different learning styles- find out which style makes the most sense to your employee.

High motivation/high skill: Your ideal employee. Keep them motivated with praise and ask for their input on projects. Since they deliver results, return the favor by helping them with their career development. You should only delegate extra responsibilities as long as the employee shows interest in learning a new skill or working on a new project. Keep note of what they like and dislike. Whatever you do, don't de-incentivize the employee into a low motivation/high skill worker.
Low motivation/high skill: This employee is very skilled, but just doesn't have the will to deliver on time or to complete their job duties. In order to motivate, you will need to ask your employee lots of questions. What do they like about the job? What motivates them to work at your company? What obstacles are they facing? Reward by showing your appreciation. It doesn't hurt to give praise when needed.
Low motivation/low skill: The definition of meta-work. You hired them so make the best of it by providing extra training and if possible carve out time for training. If the high motivation/high skill employee shows interest, ask if they can help mentor the low motivation/low skill employee. Ask questions regarding what motivates the employee. What do they like about the job? Dislike about the job? Provide extra training on top of mentorship. It may sound like more work, but in the long run you will be saving the company money and time by not finding a new replacement. Take fifteen minutes each week to review the employee's progress.
Key Takeaways:
Determine the engagement level of each of your employees.

Adapt your management style depending on employee motivation and competency
Use the competency & motivation matrix to help steer each employee in the right direction
Utilize manager tools such as Zoho, Basecamp or Align.
Author Bio:
M.C. Evans is a digital marketer for Tanner Labs, a research and development think tank that builds enterprise software. Our latest development is Align, which is a mobile & desktop application for managers to create goals, plan team agendas and manage employee one-on-ones.
Are you a tech writer for business apps? Guest Blog for Align.